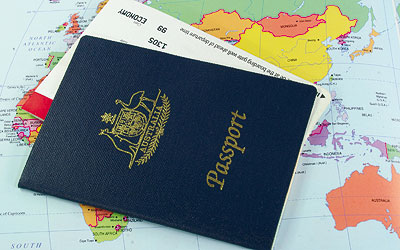 This week has been long and crazy. I suppose anytime you have any stretch of vacation coming up it feels that way...but seriously.

So last Friday, things were looking peachy keen. That is until I got home from work and we received a packet addressed to Madi from the passport agency. One would have been excited except for the fact that the envelope I had received my new pass card in DID NOT look like that envelope. Oh no! It was not her pass card at all. She had recieved a letter from them with an enclosed packet.

"Unfortunately the information you have provided is not sufficient for passport purposes."

The packet was an information packet she would now have to fill out and send into them along with at least 5 documents from a period of time to prove her identity. I'll be honest I cried for a good thirty minutes after the first time we called the passport agency to figure out exactly what had triggered this as she HAD sent the necessary info to recieve her passport in time. The first guy we talked to was completely apathetic to our plight. We had sent her stuff in early enough to allow for processing etc but now a month and a half before we leave this happens?!

I am guessing Madi's lack of a past was what may have helped trigger things. She has not really worked before, but honestly that isn't completely weird for an 18 year old to not have held a job and paid employment taxes before. *shrugs* We called back to find out if worst case scenario we need to drive to Miami to deal with this as one of the passport processing facilities is down there. This woman was much more helpful and also gave us a list of other secondary documentation that we can use to prove Madi's identity.

So after taking Saturday and Sunday to chill out and not really stress about it, we tackled the packet and scrounged together anything and everything we could to prove her identity (I think we sent nearly 10 things lol). I also emailed our local state representative for assistance too (after this was suggested on OH). The next day we got a call from the Representative's office and sure enough the are willing to try and help us get her passport in time! We sent the packet 2 day Fedex Express so they should have all of it tomorrow morning. So while it is looking good that she will still be able to go with, keep us in your thoughts that everything that needs to happen does and she is able to come with me. I did call Beliteweight to ask them about traveling alone as I know others have. And how about my coordinator (Joanne) called me back on Saturday NIGHT! I found that just awesome how they will respond to you even late on the weekend. She put my mind at ease regardless of what the outcome is...so either way I am going.